STORY INSPIRATION DAY
with children's author
Jenny York
£399 PLUS a FREE set of my books for your library. (YORKSHIRE ONLY or TRAVEL COSTS APPLY.)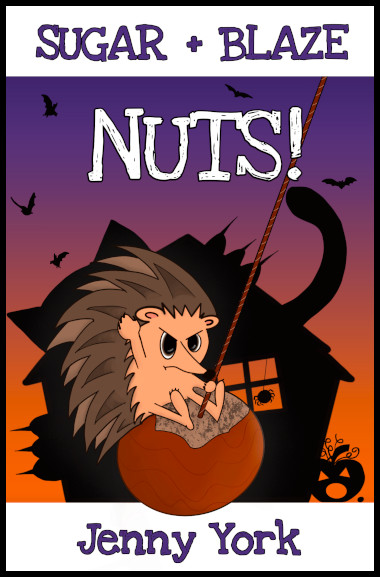 Be inspired to write your own AMAZING AUTUMN ADVENTURE!
This BRAND NEW workshop explores my new AUTUMN story NUTS. It's got CATS, SPIDERS, PUMPKINS and lots lots more. Your class will definitely want to write their own EPIC AUTUMN ADVENTURE after this fun, interactive workshop!
"A fast paced, fun packed day of costumes, puppets and of course props being pulled dramatically from a shiny bag!"
email
jenny@jennyyork.com
for more details
Author @JennyYorkBooks visited Year 3 to motivate and inspire the children to be creative writers. As you can see we had lots of fun discovering more about the characters from her books! Thank you for coming. pic.twitter.com/a7GnVaPxVR

— Whetley Academy (@WhetleyAcademy) March 29, 2022
email
jenny@jennyyork.com
for more details
Following our session with Jenny York the author, Class 3 have been busy designing book covers and their very own villains! 📚 pic.twitter.com/2eHCN3MbQ0

— St Paul's CofE (@StPaulsCofEYork) March 4, 2022
This morning Year 1 spent time with author @JennyYorkBooks learning about the characters from her stories. We had the chance to dress up, use mime and make our own character puppets. Thank you for our fantastic workshops. 📚 pic.twitter.com/FjChaP9a9z

— West Ewell Primary School (@west_ewell) January 25, 2022
Years 2, 3 & 4 had a special visitor today - author, Jenny York, held some writing workshops and we had a special KS2 assembly. Lots of our children now have some brilliant books, signed by the author @JennyYorkBooks pic.twitter.com/gyTlsgkW5G

— Lower Fields Primary Academy (@DeltaLFPA) December 8, 2021
email
jenny@jennyyork.com
for more details
A day typically includes:
A whole school assembly

4 workshops

Discounted books and book signing opportunity
Workshops:
My workshops are best suited to KS1 and LKS2 and include:
Puppets and props
Drama, hot-seating and mime
Costumes
LOTS OF LAUGHTER!
Did you know…?
In her Children's Laureate Charter, Cressida Cowell said every child has a right to "read for the joy of it" and "see an author event at least ONCE". Well said Cressida!